Randall Flood: Bring on The Magic
–
29,846
words written so far (about
50%
complete)
About Brian Clopper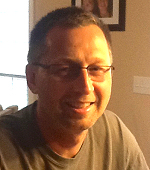 I am a 5th grade teacher in North Carolina whose comic book work has garnered praise from the likes of Lincoln Child, Mark Crilley and Piers Anthony. I have done numerous author talks on brainstorming with odd pairings, changing expectations and randomizing through both public schools and libraries.
With each book, I want to create a vibrant fantasy world with memorable characters both human and not.
Contact me at info@brianclopper.com.