Randall Flood: Bring on The Magic
–
29,846
words written so far (about
50%
complete)
Buy Brian Clopper's Books
My books are available at the following stores:
See below for details about all my books and direct "buy now" links...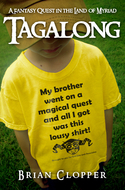 Tagalong
Published 16th September, 2011

What's a little magic without a little mortal perspective? Dylan Thadmussel is the class geek, expert on all things magical and cryptic. Mitch Trick is the class bully, his number one client: Dylan. Both find themselves dumped into the magical dimension of Myriad, and set upon by Grimble, a gremlin guide who declares himself their appointed tagalong and takes them on an adventure that is a dream come true for Dylan, who is starstruck by meeting and defeating trolls, bushwhacking bigfoot and sidestepping snallygasters. Mitch doesn't buy into it. Suspecting their quest is planned, he constantly points out fantastic fabrications a little too convenient to believe. Soon, their adventure takes a turn for the worse and both find themselves in the thick of real peril. Can they act together to stop the true dangers that threaten to unravel all of Myriad?
See also: