Randall Flood: Bring on The Magic
–
74,128
words (
complete!
)
Tomb of Tomes: Irving Wishbutton 3
–
0
words written so far (about
0%
complete)
Buy Brian Clopper's Books
My books are available at the following stores:
See below for details about all my books and direct "buy now" links...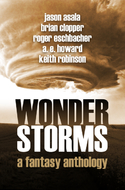 Wonderstorms
Published 12th December, 2013
A fantasy anthology featuring the work of five talented writers. My contribution is "Job Opportunity at the End of the World."
See also: