Randall Flood: Bring on The Magic
–
74,128
words (
complete!
)
Tomb of Tomes: Irving Wishbutton 3
–
0
words written so far (about
0%
complete)
Buy Brian Clopper's Books
My books are available at the following stores:
See below for details about all my books and direct "buy now" links...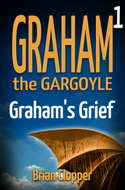 Graham the Gargoyle 1: Graham's Grief
Graham the Gargoyle Book 1
Published 20th August, 2011
For Graham, his first flight is sure to be a disaster. Expectations are high for him to fly. Teased for his puny wings and fear of heights, his only friends are an equally picked-upon troll named Ot and his grandfather who has hardened so much he may not make it to Graham's rite of passage. When his grandfather must leave Cascade to ascend to his final resting place atop a church tower, Graham makes a heart-wrenching decision and sneaks through a dimensional portal with him, keenly aware he may have just trapped himself alone on Earth. Will he make it back in time to attempt his first flight? Will Blord, the village bully, prove to be be too much of a thorn for the earnest young gargoyle? And what does his sister's volcano project have to do with saving his rocky hide? Revel in the answers as you read this heartwarming tale of friendship and faith. NOW FREE ON ALL PLATFORMS!
See also: