Randall Flood: Bring on The Magic
–
74,128
words (
complete!
)
Tomb of Tomes: Irving Wishbutton 3
–
0
words written so far (about
0%
complete)
Buy Brian Clopper's Books
My books are available at the following stores:
See below for details about all my books and direct "buy now" links...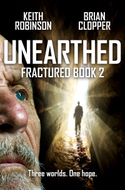 Unearthed
Fractured Book 2
Published 30th January, 2015




or in
paperback
Also! – signed copies available only at Page 158 Books
Kyle and Logan long to return to their families – or, better still, bring both worlds into phase so they can all be together. With Abe Torren's help, perhaps they can do just that. Tunnels have been discovered deep below the enclaves and under the city. Within the darkness are signs of a lost civilization. But according to Abe, it isn't lost at all. In fact it's the third phase of Apparatum, very much alive today and filled with untethered spirits. Only these spirits are flesh-and-blood creatures...
See also: