Randall Flood: Bring on The Magic
–
74,128
words (
complete!
)
Tomb of Tomes: Irving Wishbutton 3
–
0
words written so far (about
0%
complete)
GATEWAY TO REALITY: A MIND-BENDING URBAN FANTASY BY BECCA J. CAMPBELL
Posted on March 21, 2013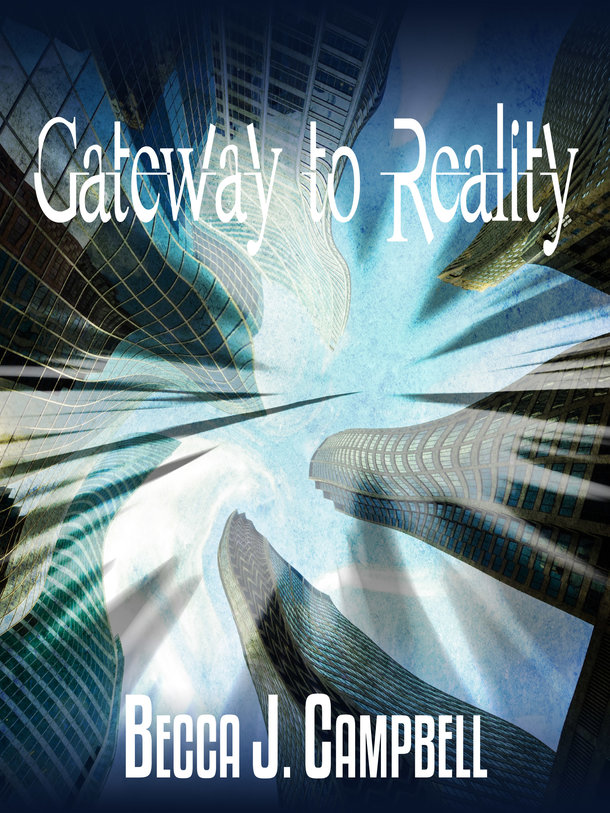 Check out a new release from Becca J. Campbell. here's what she wants you to know.

I'm thrilled to announce the publication of my second novel, Gateway to Reality, now available at Amazon US and Amazon UK. Keep reading for a chance to win one of three prize packs!

Gateway to Reality
Here's a little more about the story:
Talented artists shouldn't be waiting tables, scraping by, and living mediocre lives. But that's exactly what art school graduate Wes Teague is doing.
Then he wakes from a bizarre dream, haunted by the sense that his life isn't real. A harrowing truth presents itself – the real world lies in his dreams, not when he's wide awake.
The dream world he enters each night is rich and vibrant. Chicago appears the same on the surface, but chaos runs rampant as gravity, physics, and other laws of nature become fluid, changing unexpectedly. There, Wes's parents, brother, and sister are strangers. His girlfriend Emily doesn't recognize him. Wes longs to return, to unlearn the truth about his dual reality.
Wes would sacrifice almost anything to get back to blissful ignorance in a false world.
But now he has feelings for the real Emily.
The Matrix Meets Inception
This book explores ideas similar to two of my favorite movies, though it wasn't directly inspired by either. Dreams are key in the story, as is the idea of two worlds – one that's real and one that isn't.
Gateway to Reality
merges the two concepts and fuses them together with good dose of romance in a way that is fresh and vibrant.
Genre-wise,
Gateway to Reality
is a New Adult novel that walks the line between Urban Fantasy and Science Fiction. It is a topsy-turvy, reality-bending, relationship-driven tale that explores the relationship between truth and fantasy.
Giveaway
I'm giving away several prizes to celebrate the book's release. The Grand Prize is a Chicago-theme prize pack and it will include:


An autographed paperback of Gateway to Reality


A journal with an artistic representation of Chicago on the cover


A Cloud Gate button


A Gateway to Reality button


Three postcards: Gateway to Reality, Cloud Gate, and Crown Fountain


The Second Prize is:


An autographed paperback of Gateway to Reality


Gateway to Reality postcard


The Third Prize is the full Becca J. Campbell ebook library (your choice of Kindle or ePub version):


Gateway to Reality ebook


Foreign Identity ebook


Not the Norm (Sub-Normal #1) ebook


Unmasked Alloy (Sub-Normal #2) ebook


Enter the giveaway below. Good luck!
a Rafflecopter giveaway
Where to find Becca
Twitter | Facebook | Goodreads
Author Blog | Pinterest | Amazon
Post a comment...
All recent posts and archives...
February 2018
January 2018
December 2017