Randall Flood: Bring on The Magic
–
74,128
words (
complete!
)
Tomb of Tomes: Irving Wishbutton 3
–
0
words written so far (about
0%
complete)
MONSTERS IN BOXERS CONTEST WINNER
Posted on April 4, 2015
At the beginning of March, I had a contest to bring more people into my subscriber base for this site and promote the release of the first book in the Monsters in Boxers series. Well, from those many subscribers, one boy won out.

Here he is as his usual handsome self. Once he puts his magical boxers on, however, he becomes Trog. Trog has the ability to stick to just about any surface thanks to his suction-cup fingertips, has one long tongue he uses to push elevator buttons, and can fly with his cute, little head wings. He can also turn invisible if he ingests a lot of flies, but doesn't do that too often for obvious reasons.

The original sketch was done with a blue ball-point pen and is on its way to just about the coolest kid on the block now that he can transform into an honest-to-gosh monster.

I may find some silly way to toss Trog into the second book of Monsters in Boxers as maybe an action figure sitting on a high shelf or something.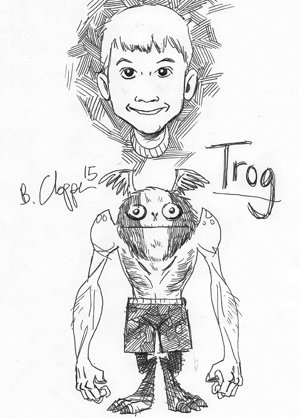 Post a comment...
All recent posts and archives...
January 2018
December 2017
November 2017