Randall Flood: Bring on The Magic
–
74,128
words (
complete!
)
Tomb of Tomes: Irving Wishbutton 3
–
0
words written so far (about
0%
complete)
PRINT VERSIONS OF MY BOOKS NOW AVAILABLE
Posted on March 15, 2016
My awesome fellow writer and good friend, Keith Robinson, surprised me with a package today. He put together print versions of our collaborative efforts, Fractured and Unearthed. You can now get print copies of these books through Amazon. They look lovely, and I'm excited that he's now hard at work putting together a print version of my new book, We Kill Humans, which should be ready to order at the end of this month.

Having physical copies of my books is a big deal to me as I've always just done e-books so far. My hope is that I can make all new titles available both electronically and in print.

The sure do look spiffy, don't they? Maybe hustle on over to Amazon and order a few for gift-giving purposes.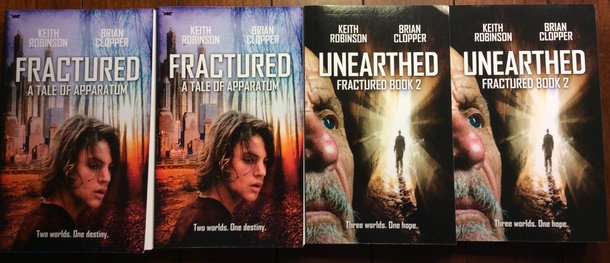 Post a comment...
All recent posts and archives...
February 2018
January 2018
December 2017