Randall Flood: Bring on The Magic
–
74,128
words (
complete!
)
Tomb of Tomes: Irving Wishbutton 3
–
0
words written so far (about
0%
complete)
GREAT USE OF CHRISTMAS LIGHTS TO DESIGN A COVER
Posted on January 2, 2017
The baddies in The Powers That Flee are invaders whose eyes glow green underneath their mirrored aviator sunglasses. My daughter helped me embed two Christmas lights behind each lens, and we took several pics. The initial cover below is designed to evoke eighties fonts. I used Verdana Cooler for the font and really like the look of it. This initial concept will get handed over to Keith Robinson, who'll work his magic and make it even better. I can't wait to see the final result.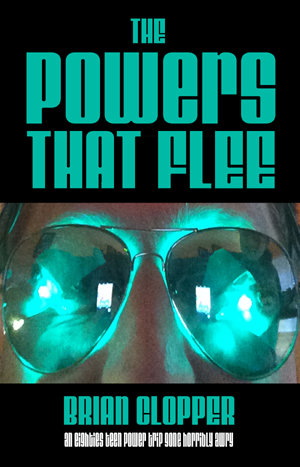 I've included the uncropped photo of myself with the embarrassing Christmas lights strung across my forehead and being held mostly out of frame by my daughter.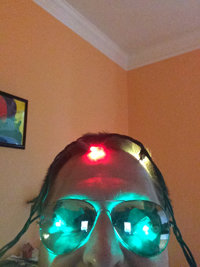 Post a comment...
All recent posts and archives...
February 2018
January 2018
December 2017